For people who've lived in the UK for a while and are either relocating back to New Zealand or simply want to free up some space in their home, an excess baggage service is essential.
There's no way you'll be able to get your worldly belongings into two suitcases, no matter how generous the airline is going to be.
There are three ways to get your excess baggage from the UK to NZ.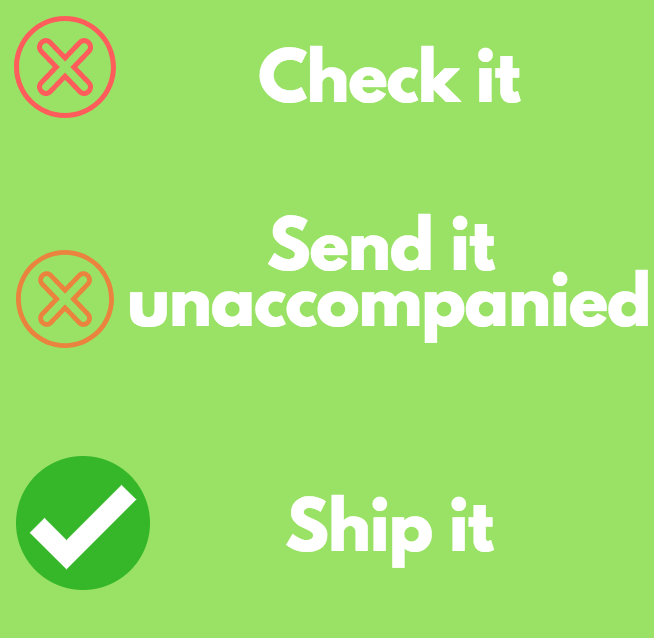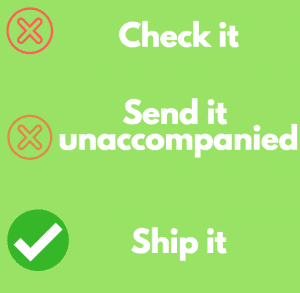 Each option has its pros and cons, but on the whole, shipping is by far the most affordable and hassle-free method. It takes a little longer for your stuff to get to its destination, but how urgently do you really need that third acoustic guitar?
Excess baggage to NZ – Shipping vs Checking in vs Sending Unaccompanied
We'll compare the logistics of each option shortly, but before we do that, let's examine a couple of typical scenarios where shipping your excess baggage is not the best option.
You've been offered the job of a lifetime and you need to relocate yourself, and your stuff, in a hurry. In cases like this, you may just decide to take the financial hit and pay the excess baggage costs to get your stuff to New Zealand

You miscalculated how much stuff you actually have and left it too late to arrange shipping – if this is you, don't worry, you can still ship your stuff, it'll just arrive after you do.

You took a chance with your bags and they're over the limit – this is probably the most common reason people don't take advantage of an excess baggage shipping service when it would have saved them money.
If none of these scenarios are relevant to you, excess baggage shipping is most probably the cheapest and least stressful way of getting your belongings to New Zealand.
"I'm packing to move and I've got way more stuff than I realised. My flight is in a few days, what can I do with all my extra stuff?"
You'll normally know quite well in advance if you're going to be moving to NZ. Very few people manage to move to the other side of the world within a week. So that means you've pretty much always got time to ship your excess baggage.
But if you're currently looking at a stockpile of musical equipment, souvenirs, clothes and other stuff you need to move, you can simply ship it after you've gone.
Some excess baggage shipping companies offer a door-to-door service, so as long as there's somebody about to literally open the door, you can still get your stuff where it needs to be. Perhaps now would be a good time to start buttering up one of your housemates or a neighbour?
"Won't I need to sign anything?"
In most cases no. Your housemate will probably sign a form saying that the stuff's been collected, but you can do the rest of the paperwork online or over the phone, so you don't even need to worry about that.
How long does it take to ship excess baggage from London to NZ?
It normally takes between 10 and 12 weeks to ship your excess baggage from London to NZ. This estimate includes customs clearance and any handling necessary at the destination. In some cases, customs inspections may cause a delay.
These charges are entirely out of the control of your shipping provider and are a matter entirely for the customs agents at the destination.
To avoid any unexpected delays to your consignment, always double-check your paperwork before submitting to your shipping provider. Your provider will be able to advise on how to complete the paperwork and some companies – ourselves included – are able to complete it on your behalf to further reduce the chance of delays.
What destinations in New Zealand can I ship my excess baggage to?
The three largest ports in New Zealand by volume are Tauranga, Auckland and Wellington. Most companies will ship to these ports. We can't speak for other shipping companies, but Kiwi Movers regularly ships excess baggage to 18 ports across the North and South Islands.
We deliver to within 48 km of your selected port:
Kiwi Movers excess baggage shipping NZ destination
Auckland

Wellington*

Christchurch

Palmerston North

Hamilton

Masteron

Whangarei

Blenheim

Hastings

Timaru

Rotura

Tauranga

Wanganui

Dunedin

Nelson

Gisborne

Napier

New Plymouth
*Due to the 2016 Wellington Earthquake, the Port of Wellington sustained substantial structural damage. The port remains open and operational, but if you are shipping to Wellington, it's worth keeping in mind that on occasion, the port authorities may divert your shipment to the next nearest port, which cause a small delay. 
Repairs are ongoing and local authorities expect the Port of Wellington to be repaired, renovated and fully operational in the near future. We recommend that you check with the local port authority before shipping to Wellington.
Alternatives to excess baggage shipping
Shipping your excess baggage tends to be the cheapest and most hassle-free option. But it's the only one. Let's take a quick look at what you can do with your stuff if excess baggage shipping isn't an option.
The two main alternatives to excess baggage shipping are:
Sending unaccompanied baggage with an airline
Some airlines offer an unaccompanied baggage service. Most customers tend to send their stuff in advance, but some leave baggage behind and have friends send it unaccompanied after. This approach tends to be more expensive than shipping your excess baggage and has a number of the same drawbacks as checking your excess baggage too.
Pros
If you're pressed for time and need your stuff to be waiting for you in New Zealand when you get there, or at least not be too far behind, sending unaccompanied baggage could be a good option.
It's quite a useful service for tradespeople, musicians and sportspeople who have to make a short notice trip and need to take a big consignment with them, such as tools, instruments or sports equipment.
You pay more for the swift service, but at least you get your stuff to its destination in good time.
Cons
It's expensive and since you're not flying with your luggage, you'll still have the hassle of picking it up from the airport, or paying extra to have it couriered to an address.
You also face the same risks associated with checking excess baggage. Your luggage may still end up being misdirected, which does happen from time to time with busy airlines.
It's less trackable. Excess baggage shipping is easier to track because it's project managed by the same company from door-to-door. 
Paying the excess baggage fee
If you're slightly over your weight allowance at the airport and need to check a single case or a small box, this can be an option, but in most cases, checking excess baggage at the check-in is an option of last resort. It generally works out far more expensive than the other two options.
Cons
It's very expensive and you may end up paying fees on top
It's got to be a lot of hassle to get that much stuff to the airport
It's dependent on the airline having the space to fit your excess baggage. At busy times, you may have to check your luggage, pay the costs and still have it sent on a different flight, meaning you have to wait longer to get your goods anyway. 
Pros
It's pretty much your only option that doesn't involve either missing your flight, sending your extra stuff to a friend's house in a taxi or simply dumping it at the airport.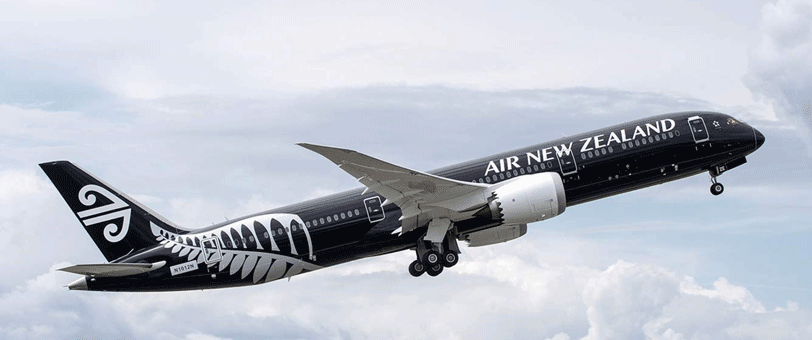 Air New Zealand excess baggage charges
Obviously there are many airlines that fly London to NZ – Air China, Malaysia, Emirates – but for a quick comparison of what you can expect to pay for excess baggage let's take a look at the national carrier.
To check a pre-paid extra bag from London to New Zealand on Air New Zealand is £90 for the first bag and £110 for any subsequent bags, if capacity is available.
Airlines obviously need to discourage people from bringing too much baggage onto an aircraft, so they don't make it particularly cheap to pay for extra.
Air New Zealand offer a pre-paid extra bag service. This is a little cheaper than paying extra at the departure gate because it gives the airline a better chance of handling its own logistics.
Air New Zealand unaccompanied baggage charge
Air New Zealand actually don't offer an unaccompanied baggage service from London to New Zealand. They do offer it from other destinations, excluding all routes to America due to TSA rules. Instead, they'll recommend one of their freight partners. These are typically large international airfreight operators, so expect to pay a hefty whack for this.
Air New Zealand baggage allowance – international flights
The standard allowance for checked luggage on an international Air New Zealand flight – as of August 2017 – is 32kg. Anything over this amount is classified as excess baggage.
Air New Zealand baggage fee
As of August 2017, Air New Zealand's advertised fee for handling any excess baggage is $30 NZ. 
Visit Air New Zealand to see their full terms and fees for checking in and sending unaccompanied excess baggage from London to NZ.
Choosing the best, cheapest excess baggage shipping service
Obviously price is a big factor in your choice, but it's not the only thing to consider.
To work out how much it'll cost you to send your excess baggage to New Zealand, use our excess shipping calculator.
Price – Shipping your excess baggage is practically always cheaper than checking it in or sending it unaccompanied with airline. To give you a broad understanding of just how much cheaper, here's a comparison:
For less than the price of checking in two extra suitcases' worth of excess baggage with Air New Zealand, you could ship four medium boxes, one large box and a snowboard from London to Auckland, NZ (approximately £220).
Insurance – Our excess baggage shipping service comes with full insurance. You do have the option to decline insurance but we strongly recommend that you don't. Depending on what you're shipping, insurance can add a little extra to the overall cost. With Kiwi Movers, you'll have the exact figure up front, including insurance, before you book. Always double-check that any quote you get for excess baggage shipping includes the right kind of insurance.
Door to door service – This is one of the many reasons people favour excess baggage shipping over air freight. We collect your stuff from your door and deliver it to the address specified (within 48 km of the port). This takes away practically all of the hassle involved in international shipping. It's important to note here that not all excess baggage shipping providers offer a door-to-door service. Some of the cheaper providers save money by having you deliver your shipment to them, for onward travel. Always check this isn't the case when comparing shipping providers.
Safety and security – Your shipment is handled at all times by experienced, highly trained professionals. We select our shipping partners carefully to ensure that your goods are well looked after from the moment they leave your home to the moment they arrive at the destination. Always ask your provider about their processes and shipping partners before making a decision.
Kiwi Movers excess baggage shipping service – what do you get?
Convenience – ours is a door-to-door service. We'll pick up your stuff from your home, and deliver it to the destination you specify.

A variety of destinations – We offer weekly and fortnightly sea freight services to NZ, Australia, South Africa, Malaysia, Singapore, Thailand, Canada East and West Coasts, USA East and West Coasts, UAE and Cyprus.

A quick service – We're offer a competitive

air freight

service as well as shipping and our consignments typically arrive at your chosen NZ destination in 7 – 10 working days.

Peace of mind – We offer a money back guarantee if you're not satisfied with the service we provide.

Flexibility –  Pick a collection time that suits you and keep tabs on your stuff with our online tracking service.

No hidden cost – the quote you get is the quote you pay, although it's very important to remember that customs charges may apply at the destination. We have no control over these at all and are entirely at the discretion of the relevant port authorities.