Everyone thinks that moving house is easy, until they've actually done it. Why pay for a London removals firm when you can do it yourself? If you're reasonably fit and strong, and have access to a vehicle, then why not try to save some money and move your own stuff?
You'll soon discover, when desperately trying to shift an impossibly heavy sideboard up a too-narrow staircase while damaging both furniture and the house in the process, that moving furniture is far from easy. It can be extremely exhausting work, that requires far more planning and skill than you might imagine.
This is why many people choose to use furniture movers in London. Sure, it costs money, but ask anyone who's had a lot of furniture to move and they'll tell you without hesitation that it was worth every single penny.
Here's why you might need to hire a specialist London furniture mover:
• You have valuable or delicate furniture. If a piece has been in the family for generations, why risk it being damaged? Specialist movers have ample experience moving valuable and delicate pieces of furniture, using specialist protective packing designed to keep each item safe. Our team of furniture movers in London take every care to see that your most precious pieces arrive in one piece and without a scratch.
• You have unusually large, heavy or bulky furniture. A prime example of this would be a grand piano. It doesn't break down into easy-to-move pieces and it can't be flat-packed. It may even not fit through a standard-size doorway. It's been moved into the room, and a specialist mover can figure out the most affordable and safest way to move it out again – as well as installing it at the other end of the journey.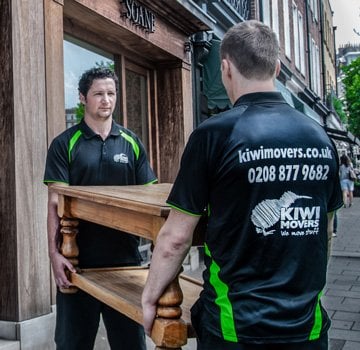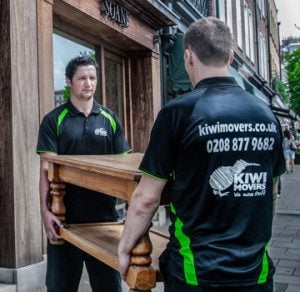 • You're moving to another country. The cost, complication and hassle of moving large furniture and other items overseas can be extraordinary. This is exactly when you need a specialist in overseas moving, especially when it comes to those large items.
• Your new property is several floors up. This presents a whole new challenge when moving, as you need to figure out the best way to get everything upstairs or up in the lift safely. When we say safely, we mean both the integrity of the items and the safety of the people doing the moving. Shifting heavy, bulky items up stairs can be very dangerous if you don't know what you're doing or you underestimate the amount of work involved. It's a similar story with lifts, as people don't always calculate the maximum weight capacity of the lift before using it to move heavy furniture – and this can be extremely dangerous.
The Kiwi Movers team have moved every kind of furniture item into every location imaginable, so we have the experience and knowledge to swiftly, safely and efficiently get your furniture where it needs to go. Contact our furniture movers in London for a quote for your move.