In the middle of 2016, the number of people moving out of London hit a five-year high. According to figures analysed by the Guardian, around 292,000 people left the capital from mid-2015 to mid-2016. After migration into London has been taken into account, this leaves the net figure of London leavers at a substantial 93,300 people. This is reportedly 80% higher than it was just five years ago.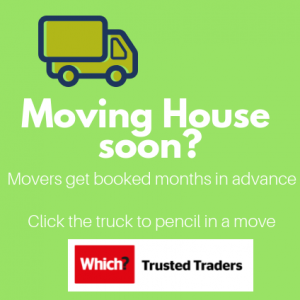 Why are people moving out of London?
Property prices
It will come as no surprise to anyone that property prices are at the very top of the list when it comes to reasons why people are leaving London. For many people, the housing market in the capital is simply unaffordable. The average house costs more than double that of the rest of the UK, coming in at a whopping £482,000 compared to the national average of £223,000.
Space and money to start a family
Although this reason for moving out of London goes hand-in-hand with property prices, it seems that many young Londoners simply don't have the space to start a family. Many couples can only afford tiny apartments, with rent and purchase prices two and three-bedroom properties being astronomical. If couples want to start a family and not end up on top of each of other in a one-bed flat, the only option is to move out of the city.
One London leaver who is now living in Devon summed up the situation for young families facing not only high rents but also eye-watering costs in relation to childcare and other expenses. The anonymous 31-year-old was quoted in the Guardian:
"Reluctantly, I am now working from home in Devon after some very happy years in London. I am hoping to start a family and was worried about affording rent and childcare on one salary in London.
"But starting a family is incompatible with London life. I can afford a four-bedroom house with a garden in a safe area here for the price of a one-bed flat in London."
Quality of life
While many Londoners simply couldn't do without the rich culture, diversity and sheer buzz of the city, it isn't for everyone. Many people move to the city for career opportunities or study, but find that they miss the green open countryside or the seaside. For others, the enormous size of the city is a challenge, with it sometimes taking a long time to get anywhere even with such an impressive network of public transport. Crowded commutes, expensive prices and for some – the isolating, impersonal side of living in such a large, highly populated area – can be a turn-off.
Where are they moving to?
According to statistics gathered by Barratt Homes, the most popular UK hotspots for displaced Londoners over the last couple of years were:
Dartford – 4,260 people moved there from London in the year up to the middle of 2016
Brighton and Birmingham – attracting a combined total of 12,100 movers
Bristol – 4,210 movers in 2016
Manchester – 4,150 people moved out of London to the Northern city in 2016.
Other destinations for 'DFLs' (people moving 'Down from London') include Whitstable and Herne Bay, Canterbury, Hastings, Exeter and Southend in Essex. In some of these places the influx of movers from London has caused a degree of social tension. Locals are concerned about gentrification and house prices rising to London levels, fears which in some popular places have proved to be accurate.
The research from Barratt Homes found that most people making the decision to up sticks and leave didn't actually go very far. Most head to the home counties, in areas surrounding the capital where they can still commute into work.
Other data from Savills estate agent used records from the Land Registry and the Office for National Statistics. This research looked at house moves among particular age groups from specific London boroughs. For example:
People over 25 years old living in Islington were most likely to move to St Albans, Hertfordshire. This move is likely to be driven by house prices, as the average home in St Albans is around £173,000 cheaper than in Islington.
One of the most popular moves among people from the West London borough of Ealing was to Slough, where homes cost an average of £241,000. This is an enormous saving, so it's understandable to see many couples and young families choosing to move.
In nearly all cases, people moving out of London seem to be motivated by house prices. The Savills research found that the average house price for Londoners included in the study was around £580,000. Their new homes came in at the considerably lower average price of just £330,000.
Renters are on the move too
London residents who rent their homes are also suffering from increasing costs, with rents in the capital rising by a third in the last ten years. For comparison, rent increases within the same period were 18% over in the south-west of the country and just 11% in the north-west.
Young people are moving in
It's not all bad news for London though, as young people are still attracted to the city in similar numbers as previous years. The research suggests that people in their twenties are the only age group not to be affected by what has been described as 'the great London exodus'.
In all other age groups are showing a trend for moving out of London, a trend that seems to start the moment people hit their thirties. It seems that young people are still drawn to study and job opportunities in the capital. However, when the time comes to get on the property ladder or start a family, the finances simply don't stack up.
Remember, if you're on the move – we can help. Whether you're moving within London or have made the decision to leave the city, call Kiwi Movers on 020 366 89726 for a quick quote. We offer a full removals service as well as man and van, all designed to make moving easy, stress-free and affordable.