Furniture removals in London
If you run any business which involves regularly moving furniture across London, you'd be forgiven for finding it more than a little testing.
Furniture removal either involves hiring or even buying vehicles, or finding a reliable man and van service that won't let you down. Neither option is very convenient. Furthermore, it's not cheap to buy and maintain vehicles or pay hundreds of hire invoices throughout the year.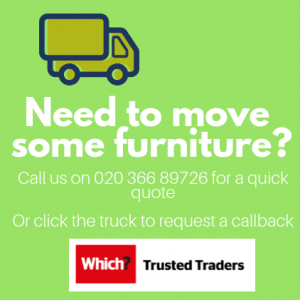 Can you ensure the protection of valuable goods?
However, the most pressing problem when trying to move valuable items across the capital is damage. Large, bulky items can be hard to move, which inevitably results in damage if handled by a team without the right experience or equipment. Even smaller items can prove a challenge. For example, those made of glass or with particular care requirements such as antique pieces.
If you're moving furniture between new properties each week or are an events company popping up at a new venue, you don't always know the challenges you'll face on the other side. This is when expensive accidents can happen. Employees could even risk injury trying to move items when they haven't been properly trained at manual handling. This is also a risk if the right equipment isn't available to move heavy items safely.
Why a professional furniture removals service is the ideal solution
The only way to ensure that regular furniture removals are done safely, professionally and efficiently is to use an expert. Trusted specialists such as Kiwi Movers are the preferred choice of organisations across London. In fact, you'll often see our smart, spacious and clean vans zipping across the city with furniture on board. Our team are all highly trained and experienced at moving valuable furniture of all kinds. We're fully insured, so every inch of your property is protected at all times when it's in our care.
Kiwi also offers a tailored service, whether you need one off office furniture removals or a great value regular service. Simply call us on 020 8877 9682* for a quick quote and a chat with one of our experienced project managers.
Kiwi can get rid of old furniture too
Hotels, landlords, serviced apartments and Airbnb businesses will all face the same problem at one time or another. What shall I do with old furniture? It's not as simple as taking it to a charitable organisation, as many will not accept furniture due to fire safety regulations. Others have policies in place to try to prevent businesses from using charities as a free disposal service.
What about taking items to the tip? For starters, not all public waste disposal and recycling facilities will accept business waste. This means that unless you're prepared to shell out for the right licence you could be breaking the law.
Experienced furniture removal specialists like Kiwi Movers not only move furniture for you – they can also dispose old furniture for you. Take a look here to find out more, or call 020 8877 9682* for a chat with one of the team.