Moving from Wandsworth to Chelsea only involves a short hop over the Thames, a journey that can take as little as 15 minutes by road. For such a short journey (less than 3 miles), it simply isn't worth calling in a full moving crew.
A far more suitable option for many house movers is man and van. This is especially the case if you don't have much to move, but too much to lug onto a local bus or pack into the back of a taxi.
Man and van Wandsworth to Chelsea – how much will it cost?
The great news for house movers heading for new digs in Chelsea is that man and van for such a short trip is really affordable. The Kiwi Movers team charge just £75 plus VAT per hour (for off peak moves) for their man and van Wandsworth to Chelsea service. If you're packed and ready, you may be able to get the move done in as little as an hour. This means that you'll pay less than £100 for the whole service. This is a fantastic price considering that you get:
A team of experienced, professional movers – who treat your possessions with care, working speedily and efficiently
A fully insured, clean, spacious van in great condition
Comprehensive insurance for your possessions – in the unlikely occurrence that an item is damaged or broken, our insurance covers a replacement or reimbursement
Complete peace of mind – we guarantee that we'll turn up on time and ready to move.
The dangers of cheaping out on your move
Of course, we know that you'll want to save every possible penny on your house move. You'll be looking for the cheapest possible options, but be careful. Cheap hardly ever means quality.
Not every bloke off the internet with a van is the right choice for your move. It could even turn out disastrously. What if the man and van doesn't turn up at all, leaving you stranded on the pavement with all your possessions? This is particularly inconvenient if you have someone moving into your old place or you've taken time off work to move.
Other 'worst case' scenarios include:
Breaking down on the way
A filthy van causing your stuff to arrive covered in dust and dirt
Damage, breakage or loss of your possessions
Damage to your new home as your stuff is carelessly moved in
A move which takes far too long, when you're billed for the time!
A man and van service that takes your money (or your stuff) and is never heard from again.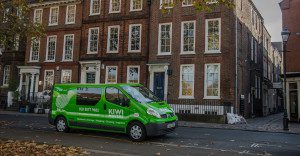 If all of these send shivers down your spine, make a smart choice. Go for a reliable man and van Wandsworth to Chelsea service like Kiwi Movers. You simply don't need the stress on moving day, so choose a 100% reliable, quality guaranteed service instead. Please call us on 020 8877 9682* to find out more.