Choosing a moving service is not always as simple a decision as you may think. Not just any man and van in London will do. If  you choose the wrong one, it could make moving day incredibly stressful.
Man and van services – what could go wrong?
Unfortunately, a lot can go wrong when you choose a man and van service out of the local paper or from a listing on your local Facebook group.
Unfortunately, some people start 'man and van' businesses simply because they happen to have a van at their disposal. What they don't have is the attention to detail and experience needed to complete a house move smoothly. These services may be fine for shifting a few boxes, but not for full moves. You should always approach with caution if you're moving house or have anything valuable to move.
But just how bad could it be? The Kiwi Movers team has heard all kinds of horror stories from people following a bad experience with a man and van service. Common problems included:
Failure to turn up at all, leaving movers standing on the doorstep with their belongings. If you're part of a chain, this could cause major problems. Someone may be waiting to move into your property and you lack the transport to move out!
A van that is too small, leading to many more trips back and forward. Even worse, you could be charged for these extra journeys
A van that is far too large and can't fit down the street or driveway. This means a long walk back and forward to the van for each load
Careless loading or driving. If you fancy having your belongings arrive at your new home in one piece, it's recommended to choose your moving service carefully.
No insurance. If something gets broken, your man and van service should have insurance in place to cover it. If they don't, there's no way for you to claim back the costs of repairing or replacing the item. This can leave you out of pocket.
No door-to-door service. To some movers, this is a chargeable extra, but many movers expect their stuff to be delivered into the property itself. Unfortunately, without checking this in advance, you could find your belongings simply left by the roadside. Or, you'll have to pay extra to have everything brought inside.
Missing items. It's easy to put your trust in your movers. After all, this is what they do for a living, right? However, man and van services aren't always professional movers. You may even be their very first job after buying a van. This means that they aren't experts at what they do, and they may not even be trustworthy. Sadly, we've heard lots of stories about property going missing, as well as whole van loads of stuff simply being driven away by unscrupulous conmen.
Damage to your home. If you've spent all that time cleaning your old home ready for moving out, the last thing you want is a mishandled box taking a big chunk out of the paintwork. If a company isn't insured for damage to property, you could end up paying for that damage yourself.
A completely rubbish van. The picture with the ad may show a pristine white moving van with lots of clean space for your belongings. What turns up on the day may be not much more than an old banger. You absolutely do not want your perfectly packed possessions inside a dirty, tatty van that looks as if it may break down at any moment. But if you've no other options on moving day, you may have to go ahead. Fingers crossed!
If a service seems a bit too cheap, it's worth trying to find reviews or recommendations from previous customers to see if it really is too good to be true.
Not all man and van in London companies are the same…
The good news is that there are man and van services out there in London that will save you money compared to a full-scale removals service. Crucially, they can also be trusted to do an exceptional job. There are five key things to look for when choosing a company for your house move:
Quality
Training
Insurance
Reputation
Consider these in priority order, remembering that a cheap service is not really good value if the service isn't good quality. A shoddy service can make moving day a real nightmare, raising your stress levels through the roof. If you're stressed out, exhausted and behind schedule, surely this undermines the whole point of using a moving service in the first place?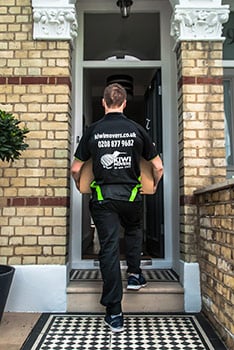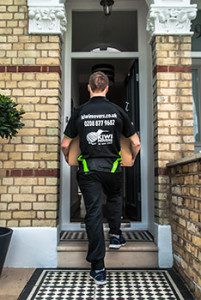 Kiwi Movers have an extremely handy man and van in London service that comes highly recommended by our happy movers. It's essentially a scaled down removal service for smaller moves, or for those who aren't moving far. You may not need the full belts-and-braces removals service complete with packing, unpacking and all those extras. You simply need a trustworthy couple of professionals with transport to move your belongings safely.
The key message in here is to always look for a professional setup. A person may buy a van and think they can offer the same level service as a company that specialises in house moves. This rarely happens. Approach man and van in London services with caution, making sure to ask lots of questions and get an assurance of quality before agreeing to go ahead. And never hand over any money unless you're sure!
To find out more about our affordable man and van in London services and to get an immediate quote for your move, simply call the Kiwi Movers team on 020 366 89726.
No matter where you're moving or how much stuff you have, we're confident we can find an affordable, great quality service to suit you. Above all, we're fully trained, fully insured and have the best vans in the business.