If you're moving house in London and you've gone online to do your homework, you might find yourself up against quite a bit of confusing jargon. This is especially the case for people moving to the capital for the very first time. What on earth is a 'red route' and how will it affect moving day? And will you need a 'dolly' during your house move? Let's bust some jargon!
Property Survey
Also known as a 'move consultation', this is when a member of the Kiwi Movers team pops round to ask crucial questions about the move. They'll ask about:
Whether or not you're in a chain
The parking situation at both the property you're leaving and your new home
Your move date.
The survey will also mean taking a close look at your property, from top to bottom. Don't worry – you don't need to tidy up! We'll just be making a note of any large, awkward or valuable items that will need to be moved. The consultant will also check for furniture that'll need to be dismantled.
Volume
This term is used by London removals companies simply to mean the amount of stuff to be moved. It includes everything from boxes to furniture. An accurate estimate of 'volume' is essential to work out how long the move will take and how many movers will be assigned to the job. Finally, what vehicle will be used.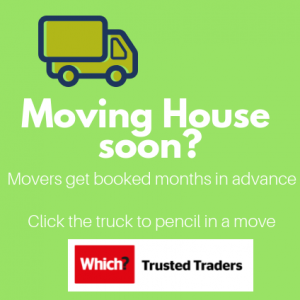 Congestion Charge Zone and London Low Emissions Zone
Removals companies in London have an extra challenge to deal with as well as getting your stuff from A to B. They must also deal with London's road restrictions, which includes the Congestion Charge Zone. This is where a daily charge is due if you drive through the zone during certain hours. Another one that London removals companies know all about is the Low Emissions Zone, where vehicles that don't meet certain emissions standards will be charged for entry.
Red routes
This is another challenge affecting removals companies in London. Red routes are the busiest roads in the city, so-called because of their red markings. There are signs along these routes advising on what you can and can't do in relation to parking, loading, bus lanes and turns. Experienced London removals companies know about red routes and how to use them, so no penalties are incurred.
Self-store
Don't want to move everything right now, or don't have enough space in your new place? Self-store is the solution. It refers to clean, modern storage units where you pay a weekly, monthly or annual cost. In most cases, you can also access your self-storage unit whenever you want.
Dolly
This is a word that London removals companies use regularly, but those not in the industry may not have a clue what it means. A dolly is simply a small, wheeled platform designed for moving heavy objects. Professional movers use dollies to shift all of your bulkier items safely, smoothly and without the risk of injury or damage to your property.
Have any other burning questions? Please call the team at Kiwi Movers on 020 8877 9682* – we pride ourselves on our jargon-free, straightforward approach to London moves.