There's a certain universal truth at this time of year. We all know someone – whether it's a friend, colleague, or slightly eccentric loved one – who's been giddy about Christmas markets since October 31.
You know them. And whilst their clawing excitement was easy to brush aside before, Christmas is fast approaching. It's practically here already. So if you want to get the most from those outrageous hotdogs and naff woolly jumpers, now is your time to shine. Here are a few gems based right here in London.
Real Food Christmas Market
Where: Kings Cross Square, N1C 9AL
When: 14 – 23 December, 12.00 – 19.00
Social: @RealFoodFest
Looking to do something a bit special on your lunch break? The Real Food Christmas Market is a packed-full of festive artisan treats, mince pies, and spiced mulled wine (or hot coffee, if you prefer).
This little institution has been going for a while now, but it's still one of the best ways to soak up the hustle and bustle of London during the busy festive season. It's not just for commuters, either. The Real Food Christmas Market is great for picking up last-minute gifts.
What's more, all this lovely stuff is provided by independent, local producers – so you know you're doing a little good as munch on a German pastry.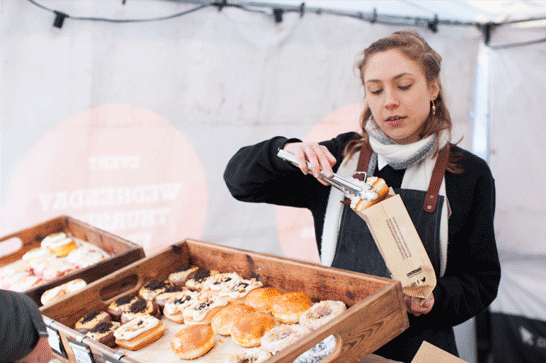 Image courtesy of realfoodfestival.co.uk
Hyde Park Winter Wonderland
Where: Hyde Park. But you knew that anyway.
When: 18 November – 2 January, 10.00 – 22.00
Social: @WinterWonderLDN

It's been 10 years since Hyde Park Winter Wonderland first opened its doors, and since then it's been one of the most popular Christmas markets in London. There's live music, an ice rink, and dozens of food stalls dotted around this festive hotspot. You can even visit Santa himself.
Word to the wise, though: it can get pretty busy here, so it's a good idea to book ahead. There's even a Winter Wonderland app.
Sutton House Christmas
Where: Sutton House, Hackney, E9 6JQ
When: Every weekend from 26 November – 18 December, 12.00-17.00
Social: @SuttonHouseNT
If the idea of visiting a big Christmas market – potentially filled hundreds of small children – doesn't appeal too much, then Sutton House might just be up your street.
This charming 500-year old property will be bejeweled this season, offering something truly special for everyone. Promising an 'alternative' to other London Christmas markets, here you'll find dozens of artists and entrepreneurs creating one-of-a-kind gifts and tasty treats. You'll be hard pushed to find a more beautiful setting too.
Image courtesy of cityshowcasemarkets.com
Greenwich Market
Where: Greenwich Market, SE10 9HZ
When: Open until 24 December, 10.00 – 17.30
Social: @GreenwichMarketLDN
Ever visited a Christmas market within a World Heritage Site? Well, you're in luck.
Greenwich Market is absolutely gorgeous at this time of year, and is a perfect way to get your fix of mulled cider, pulled pork sandwiches and do some boutique shopping. We here you can also pick up some nice presents here too.
London Christmas markets
Have we missed out something special? Share the festive cheer with us on Twitter.