In this new monthly post, we highlight our Rising Star of the month, highlighting a little bit more about some of the awesome people that work at Kiwi Movers and what makes us a great London moving company.
Hayley Court – Office Manager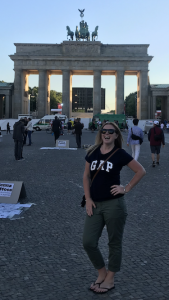 1. Where are you from?
Christchurch, NZ
2. How long have you been with Kiwi?
Just over 1 year
3. Your background (training, previous jobs)
Bachelor of Commerce in Mgmt & Mgmt Science.
Worked for 8 years with Countdown Supermarkets in NZ in variety of roles, most recently as Store Manager
4. Your role?
Office Manager. My job involves fielding inbound calls, booking surveys and jobs, quoting over email and phone for removals and shipping, preparing shipping paperwork, invoicing for all jobs, arranging parking suspensions. There's plenty of variety day to day and keeps me busy!
5. What you enjoy about the job?
Keeps me busy & great team and environment to work in
6. Best moment/memory on the with Kiwi?
Getting to talk to Jon Snow (Kit Harrington from Game of Thrones) on the phone!
7. Most challenging situation and how you overcame it?
Balancing all the different aspects of my role when it's busy to make sure everything gets dealt with in time. Prioritising and making lists (using lots of post it notes) helps keep me organised.