Let's discuss relocating locally…
Moving locally and short distance moves can sometimes be harder to organise than a long-distance relocation. Some people find it difficult to choose the right solution, whether it's a full removals service, man and van or tackling the move themselves. But what is the best way to move within neighbourhoods or London boroughs? Here's why professional movers could be the solution for short distance removals in London.
Don't fall into the DIY trap
If you've ever moved house yourself, you'll know just how back-breaking it can be. With a few years elapsing between moves, it's easy for the memory of how tiring, stressful and pretty awful that day was to fade. This can lead to you thinking – "we'll just hire a van and do it ourselves, it'll be easy and we'll save money".
In reality, it can make the move many times more stressful and difficult than it needs to be. And factoring in van rental and the very real likelihood of breaking or damaging items or property (or yourself!) along the way, it isn't always a money-saver.
When it pays to bring in the professionals
There are a couple of questions to ask yourself when coming up with a plan for short distance moves. These are:
Do I have a lot of stuff? As a general rule of thumb, if you have at least two bedrooms or an attic/cellar full to bursting with stored items, you have a lot of stuff.
Do I have anything valuable? This could be expensive antique furniture, or something of great sentimental value like a family heirloom.
If the answer to either of these questions is yes, and for many people both will apply, then it could pay to bring the professionals in. A highly trained team of professional movers, experienced in short distance removals in London, can take a huge amount of stress off your shoulders. Choose the right team and you'll drastically reduce the stress, cost and time spent on the move.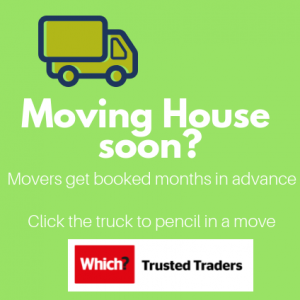 Professional London removals companies like Kiwi Movers will take extra care with valuable items, drastically reducing the chances of damage. They know how to tackle logistical problems such as tight spaces or multi-floor moves, and they come fully insured for every eventuality for your peace of mind.
Planning short distance moves – which option to choose
The best way to start your planning is early and with a chat with a home removals specialist. You can provide the details of the move, including the new location, how much stuff you have and details of any valuables. The Kiwi Movers team can advise on the best option, from a full crew for short distance removals in London or a great value man and van service which charges by the hour. You'll also be advised to book as far in advance as you can, avoiding bank holidays and other high-demand times. This is how you'll get the very best price for your move. Get a callback from a Kiwi Movers specialist here.
You'll be extremely glad you chose the professional London removals option on the day, when you see just how many heavy, bulky items come out of your house! All the stress and work is handled by someone else, so you can simply look forward to settling in your new place.