The ins and outs of event logistics
Most visitors to trade shows and exhibitions simply don't realise how much preparation time each stand or stall has to put in beforehand. It's an enormous task, involving everything from designing a display and printing marketing materials to preparing presentations.
Just as importantly, there's event logistics and trade show transport to think about. How will you get all of your bulky and often heavy materials to and from the show? If you've got a busy season of exhibitions lined up, you'll find yourself developing some pretty impressive muscles from all that lifting and shifting.
---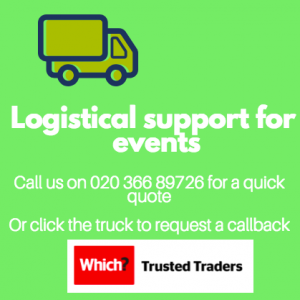 ---
The headache of trade show logistics
As well as being hard graft, many exhibitors find handling this side of trade show logistics to be a real headache. It can be really stressful, especially when things go wrong. For example, if items are lost or damaged on the way to the venue. There's no time to find a replacement, so it could derail the whole event.
Trade show transport can also be expensive if hired on an ad-hoc basis. If you do a reasonable number of events a year, your transport costs will soon add up. If you're having to do all the work yourself and it's mega stressful, can you really say that it's good value at the end of the day?
One potential solution if you do lots of events is to buy your own vehicle. However, this comes with its own problems. Purchasing a large enough vehicle (able to safely and legally carry the weight) is a huge expense, not to mention the cost of road tax and insurance. You'll need somewhere to park and store the vehicle and someone to drive it. Lastly, you'll need to invest in manual handling and other health and safety training for your team so that no one injures themselves.
When to call in professional trade show transport
Experienced exhibitors have a number of tricks up their sleeves. One of the most time, stress and cost-saving is to set up a contract with a professional trade show logistics company. This obviously has it's own costs, but the benefits make it well worth it for many companies. For example, professional trade show transport experts such as Kiwi Movers can offer:
Minimal chance of items getting lost or damaged – as they're being handled by experienced, highly trained movers using professional equipment
Comprehensive insurance
100% reliability – no worries about your transport not turning up in time, or at all
Zero stress – the movers handle the logistics at both ends of the journey, so you can focus on your preparations.
Contact Kiwi Movers to discuss your needs
To discuss your schedule of upcoming events and exhibitions and to find out how our professional trade show transport team can help, simply call Kiwi Movers on 020 8877 9682*. We can tailor our services to suit you, and we'll always aim to find the best value, most affordable option for you.