If you're doing your research and comparing self-storage quotes, well done. It's a really smart move to shop around before buying anything, as just a little bit of legwork can potentially save you hundreds.
We've put together a few handy pointers to help you understand what to look out for when your London storage quotes start to roll in. Not all are straightforward to compare, so you need to prioritise on what you really need.
Self-storage quotes based on square footage
Most storage providers will give you self-storage quotes based on square footage. This means that the more space you need, the more expensive the unit is likely to be. It can be difficult though to envisage how big a unit will be, so be careful before picking the cheaper option. You could end up with a Tetris-style battle on your hands to fit everything in!
This should help:
A 10 square foot unit is around the size of an old-fashioned telephone box
25 square foot is roughly the size of a small garage
50 square foot is the size of a studio flat
75-100 square foot is an average two-bedroom flat
125-150 square foot is a three bedroom house.
The longer the stay, the cheaper the quote
As a general rule, the longer you commit to a storage unit, the cheaper it will be. This is compared to the cost of a flexible weekly or monthly short-term arrangement. If you don't necessarily need flexibility and know you need at least 6 months or more, look for long term storage quotes.
Discounts for longer stays can be considerable and many providers such as Kiwi Movers can offer tailored quotes. Make sure you follow enquiries like this up, and don't just go with what's written on the tariff sheet for length of stay.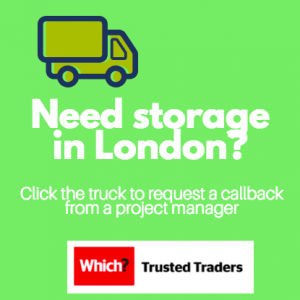 Important things to check
When you're looking at London storage quotes, make sure to check the following carefully:
Is 24-hour access included? You need to be able to get to your stuff when you need it, so this really is an important one. Look for facilities that let you come and go whenever you want, without having to wait in a reception or hang around outside until opening time.
Is the unit insured? If the worst should happen (such as fire, for example), you need to know that your possessions are safe. Always check whether the unit has comprehensive insurance, especially if you have valuables in there.
What security measures are in place? Your quote should also include details of security measures such as locking, alarms and CCTV monitoring. If it doesn't, get in touch to find out more as security is essential when it comes to self-storage.
Are photos of the units provided, or can you go visit? You need to know that your unit is suitably maintained, clean and free of damp.
Get a quick, tailored quote from Kiwi Movers right here, and take a look at what the cost of storage with us includes on our Storage page.