When should you book a removal company?
Like so many things with moving house, knowing when to book a removals firm in London is all about careful timing. So many people wait until they have an exchange or completion date to start looking for movers. However, this can be a huge mistake.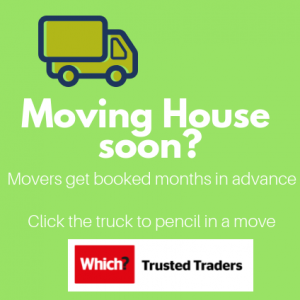 Remember the number one rule – book early, save money
How much notice do removals firms need? The simple answer to this is – as much as possible! In nearly all cases, booking a removals company as early as humanly possible will result in a cheaper rate. The more organised you can be in planning out your move, the more you will save when it comes to moving day.
London is a hugely busy market, with thousands of house moves happening every day. Prices, as with most things in London, tend to be a little higher too. If you lock in a cheap rate early, you'll make your move much less stressful as well as more affordable.
Booking in a removals firm when you don't know your move date
One of the key questions to ask removals companies is whether they can be flexible if you book in a date early. Some companies, such as Kiwi Movers for example, prefer you to 'pencil in' a date as early as possible. Even if you don't have a date for your move or even for exchanging contracts, you can still estimate a date and get it provisionally booked in. If this date changes, which it is very likely to do, we will happily reschedule and honour the existing price in most cases where an advance booking has been made – provided of course that you let us know as early as possible.
So, knowing that you can reschedule your moving date if you need to, absolutely don't hesitate to book a date in now. Don't wait to find out your exchange or completion date, get it booked in now.
Call Kiwi Movers on 020 8877 9682* to check availability and prices, and to let us know about potential moving dates.
What else affects the cost of hiring a removals firm?
There are other things that may affect your decision when considering when to book a removals firm in London. If you're keen to save money (as we all are), you can also avoid bank holidays and weekends. This is because these tend to be the busiest times for removals firms, as it's when everyone wants to move. To avoid peak-time rates, plan ahead and choose a weekday for your move if you're able to.
You could also use this time, while waiting for things to happen on your property transaction, to de-clutter. If you have less to move, it can be moved more quickly. You may find that the price of moving is cheaper.
Hopefully you now have a better idea of when to book a removals firm in London, with that all-important budget in mind. But if you have any questions, please don't hesitate to get in touch with the Kiwi Movers team.