Storage prices in London
Many things in the capital tend to be more expensive than in the rest of the UK, but what about storage costs in London? Is it so expensive that it's not worth doing, or are there affordable solutions out there?
Let's have a quick look at the kinds of factors that can affect the price of London storage, and why some extra features can be well worth paying extra for.
Average storage cost per week in London – short term storage rates
If you don't need to store your stuff for very long or you need flexibility, you'll opt for short term self-store facilities. The prices vary depending on the provider and the amount of space you need – click here for a quick quote from Kiwi Movers.
On average, you may pay between £17 and £70 per week for a self-store unit between 10 and 50 square foot if you're looking for a location in central London.
Kiwi Movers has handy locations in central and west London including Richmond, Chelsea, Wandsworth, Fulham, Battersea and many others. All of our units are accessible 24 hours a day, so you can come and go as you please.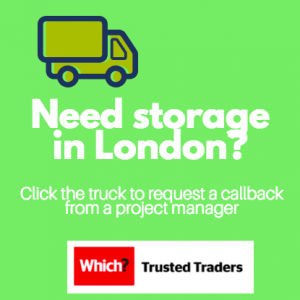 Storage cost per year in London – long term storage rates could help you save money
In most cases, you can usually get a better deal on storage costs in London if you opt for a longer period, and if you pay upfront. If you know that you'll need storage for 6 months or more, this is the option to choose. You could save hundreds compared to paying week-by-week or month-by-month.
Here at Kiwi Movers, we can offer you a discounted rate for longer stays at our storage facilities. We can even tailor the price to your exact needs, so please just call on 020 8877 9682* and we'll give you a personalised quote.
How much stuff do you have?
This is one of the biggest factors that determines storage costs in London. The more stuff you have, the bigger the unit you'll need. For example, storage costs for a 2 bedroom house will be much lower than for the contents of a 3-bed or 4-bed property. So, if you can reduce the pile you need to store, you can potentially save quite a bit of cash.
Extras that are worth paying for
As we all know, the cheapest option isn't always the best. This applies to many things, but especially storage. A bargain price may seem great at first, but not if your unit is insecure and is broken into, or floods and your stuff is damaged. Can you access your unit when you need to, or do you need to work around someone else's inconvenient opening hours? Is there any security in place or is your unit vulnerable to break-ins?
Kiwi Movers offers affordable prices along with 24/7 access and perfectly maintained units that are clean, dry and spacious. We also have comprehensive insurance, so that your possessions are completely covered. We also take security seriously, with CCTV protection and individually alarmed units. Get in touch for a quote.