Moving to or from a luxury apartment in London presents a unique challenge. Expensive and often fragile items need to be delivered from A to B, and both properties should be protected during the move.
You don't want any scrapes, smashes or breakages, but you absolutely need peace of mind that it'll all go smoothly. This is why you should always call in the professionals when it comes to luxury apartment removals in London. Here are some other important things to consider…
It's important to have a customised, detailed plan for moving day
Facing a challenging prospect like luxury apartment removals, it's essential to have a watertight plan. You need a dedicated project manager overseeing every aspect of the move, to make sure it runs smoothly. It's recommended to have a detailed inventory, especially for valuable or irreplaceable items. You also need an hour-by-hour plan for moving day itself. Everyone needs to know exactly what to do, and where they're supposed to be, at every stage during the day.
Is each property fully protected from damage?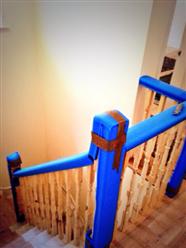 With luxury apartment removals in London, a great deal of care needs to be taken when moving items in and out of each property. You need to protect expensive fittings, along with pristine paintwork, stairs and banisters. You need a team with the experience and skill to navigate tight spaces and move large items without causing any damage.
Kiwi Movers take the utmost care in all properties, taking extraordinary steps to protect fittings and finishes. For example, we wrap door handles, radiators, banisters, stairs and even light switches.
Whether there are several flights of stairs or a tight lift to negotiate, we can handle it. We can even provide a hoist lift for large possessions that need to be moved in unconventional ways. Our service can be tailored to suit you, so just tell us what you need.
Your possessions need to arrive in perfect condition
Professional movers such as the Kiwi Movers team are specialists when it comes to handling expensive, valuable or fragile items. We have packing and preparing these items ready for a move down to a fine art. You'll have complete peace of mind that every painting, sculpture, priceless vase and antique will be securely packed using the right materials and a great deal of skill.
Needless to say, you just don't get this with your everyday man and van service.
Great insurance is essential
When you're moving high value items, you need to know that they are fully protected by the right kinds of insurance. Your moving company needs to have professional liability, goods in transit and other kinds of insurance in place. Check when getting quotes what level of cover is included, and find out about options for increasing it if you need to. You can get insurance cover tailored to your needs, to include specialist or high value items.
To chat to the Kiwi Movers team about your upcoming move, just give us a call on 020 8877 9682*.