In an ideal world, you'd have many weeks to plan a house move. You could take your time de-cluttering, packing and arranging every detail of the move. Unfortunately though, life doesn't always work like that.
Sometimes, you may need to consider moving house in a hurry. It might be that things happen unexpectedly with your house purchase or sale, or that the chain of property transactions takes a sudden leap forward. Your plans may change, and you may need to leave your rental property earlier than expected.
Packing to move house in a hurry may not be ideal, but it is doable. Follow these packing tips to pull off a full house move in a fraction of the time, with as little stress as possible:
1. Call removals companies in case of cancellations
You never know, you may just be lucky and a last-minute spot may come up when you need it. Even when all removals firms are fully booked, it's always worth ringing up just in case. Using a removals firm can make all moves much easier, but especially if you're moving house in a hurry. Professional movers have the transport, packing materials and expertise to make the day as hassle-free as possible, so you'd be mad not to use them if you have the budget and a cancellation space becomes available.
Call Kiwi Movers on 020 366 89726 to check for cancellations or to enquire about a short notice move.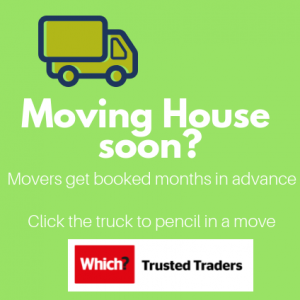 2. Make a checklist
Now, it's time to think about packing. Tackling such a large job can seem overwhelming, but not if you break it down into manageable chunks. It's up to you how you sort jobs, whether it's room-by-room or in priority order.
3. Get rid of unnecessary stuff – and be ruthless
Moving house in a hurry is much, much easier if you have less stuff to shift. The last-minute rush can actually be a blessing in disguise, as it forces you to be more decisive about things you've been meaning to get rid of. If you don't use it, get rid of it. You can donate to charity or simply send to the tip.
4. Organise everything into piles
If you're packing to move house in a hurry, it can make it much easier to organise everything into piles before you put it into boxes. You can sort based on similar items and which will be easier to pack together, as well as things you're getting rid of. It's ok to have a 'maybe' pile! Once you have your piles, you can see more clearly how much stuff you have and how many boxes you'll need.
5. Bring in reinforcements
In an emergency, like moving house in a hurry, call on friends and family to help out. If they're available, they won't mind. Get them packing those piles you've made into boxes, disassembling large pieces of furniture and cleaning rooms – just make sure you've got refreshments on hand as a reward for their hard work.
Kiwi Movers can help with moves of all kinds, and it's always worth giving us a call on 020 366 89726 in case of last-minute cancellations.