If you're moving house and not going far, such as the short hop from Wandsworth to Kensington, you don't necessarily need a full removals service. In fact, it could end up being far more expensive than you actually need. A man and van Wandsworth to Kensington service could be far more convenient and cost-effective.
Why consider man and van for your move?
The journey from Wandsworth to Kensington is only around 4.2 miles if you take the Wandsworth Bridge Road. A professional, reliable man and van team could complete this journey in under half an hour. For such a short journey, you simply don't need to pay for unused space in a large moving truck or for a full team of movers to bubble-wrap every single piece of property you own.
This kind of service is really flexible, as you only pay for the time you use for your move. Our man and van Wandsworth to Kensington service here at Kiwi Movers charges by the hour – which includes a fast, efficient and ultra-professional team.
There are many circumstances in which man and van is clearly a winning choice, but here are just a few:
You don't have very much to move, so it'll all easily fit into a small to medium van
You don't have far to travel, but no transport of your own
You're moving out of (or into) a furnished flat, so you don't have a lot of stuff
You're a university student moving in or out of halls
You need to move but don't fancy hauling your stuff on public transport!
How much does it cost for man and van Wandsworth to Kensington?
The great thing about this particular journey for house movers is that it's short. Man and van services charge by the hour, so you won't be paying very much at all for your move. Choose Kiwi Movers and move at an off-peak time, and you could pay as little as £75 an hour plus VAT. This gets you two strong, professional movers and a reliable, fully serviced van with plenty of space for your stuff. It also covers loading, unloading and comprehensive insurance, so that you can feel confident that all your belongings are covered during the move.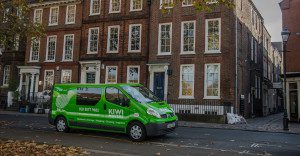 What man and van really buys you though is peace of mind and a stress-free move, provided of course that you choose the right company.
Watch out for man and van cowboys!
The internet is stuffed full of ads for man and van services, especially on social networks. You need to be extremely careful when choosing a company for your move, as not everyone with a van is able to provide a reliable, secure moving service. Be wary of 'too good to be true' rates, as this could mean:
A clapped-out van
No insurance
An unreliable service – they may not even turn up!
Damage to your stuff.
When moving house, you need to keep stress to a minimum. You don't want to be worrying about whether the team will actually turn up, or if your belongings will survive the journey. This is why we would always recommend choosing a quality, reliable service which offers complete peace of mind. Get in touch with the highly rated Kiwi Movers team for an immediate quote for Wandsworth to Kensington man and van services.