What size van will you need and more…
So,  time to move house. You've made the smart choice and decided to look into using a London house removals service rather than trying to tackle everything yourself. It's a sensible move because many people find that it's way more work, sweat and stress than they realised. It can even end up costing more if your plans fall apart.
Budget will always be a concern with a house move, so how much on average does it cost to move house in London? Let's take a look at a few useful points to consider for moving the contents of a two-bed house. This is one of the most common sizes of house moves – especially in London when space is at a premium.
Your stuff and how large a van you'll need
The first thing to think about is how much stuff you actually have to move. This will affect how long the move will take, how big the moving crew is and crucially, what size of moving van will be needed. All of this will be reflected in the price.
You don't need to worry about selecting the right van, as moving experts like Kiwi Movers will do all of that for you. All you need to do is provide as accurate an estimate as possible of how much stuff you have.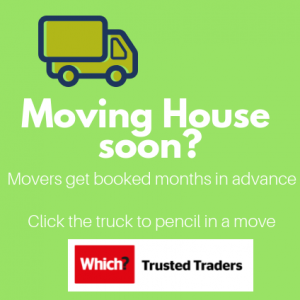 Let's look at two-bed house removals in London, for example. If you have an average two-bedroom property that isn't stuffed to bursting with clutter, you can expect to take up around 500-700 cubic feet in a removals van. Provide details of roughly how many boxes you'll need as well as listing larger items of furniture. It can be a good idea to buy your boxes from the removals company. This means you can fill them and tell them exactly how many you have.
Of course, it goes without saying that a good way to save money is to reduce the amount of stuff you have. It could be time for a clear out, making you some extra cash and giving you a fresh start in your new place.
Distance travelled
Another thing that affects the price of two-bed house removals in London is how far you're going. If you're only going between neighbouring London boroughs, the journey will be quick and won't cost as much. You can even consider hiring man and van services which charge by the hour. This is a good option if you don't have much stuff.
Packing services
Don't fancy packing everything yourself? If you're prepared to pay a little extra, your moving crew can do all the legwork for you.
So, how much can you expect to pay?
Contact Kiwi Movers to get a free personalised quote for your move based on all of the factors above.
On average, people pay upwards of £500-£550 for two-bed house removals in London, not including packing. It can be well worth the money to know that every detail is covered – so you can put your feet up!